Nationwide Travel Trailer Transport and RV Shipping.
800-462-0038 - Open 24/7- BBB Member - Lic/Ins/Bonded
If you have a Travel Trailer that you need moved anywhere in the continental USA, we can ship it for you. If you are in Canada, our driver will meet you at any US border.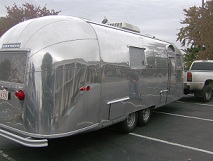 Please call 800-462-0038 for a free travel trailer moving quote.
Or
Go to our quote page:
Shipping a travel trailer takes proper trailer. The rv travel trailer is hooked up to the back of a pickup truck attached to a ball hitch. The driver has to make sure that hitch is secure. There must be safety chains as well as a break-away-switch attached from the trailer to the pickup truck.
While in tow, the driver must be very careful when pulling the travel trailer. The driver has to take turns extra wide. The trailer will be exposed to crosswinds and steep down grades at times. The driver has to rely on his own brakes as well as the trailer brakes powered and controled by a simple brake controller box in the drivers truck.
The above any many more reasons is to hire a company like ours to transport your travel trailer. We have transported thousands of different size travel trailers all the way from tiny ones to 45 ft long with multiple slide outs.
View our RV Shipping Guide.